Description
The first edition of the Good Tunes Book was released at the 2016 National Folk Festival in Canberra, Australia. It is a collection of 157 folk music tunes from around the world. It includes 41 jigs, 28 polkas, 44 reels, 6 hornpipes, 27 waltzes, mazurkas, 11 marches, airs. 66 pages.
The tunes are set with a single line melody notation with guitar chords. The full list of tunes included are below. Here are some examples: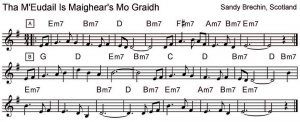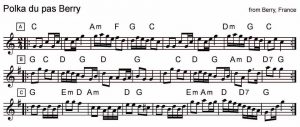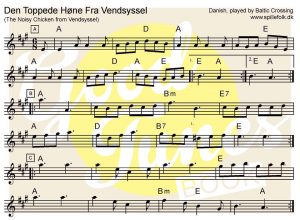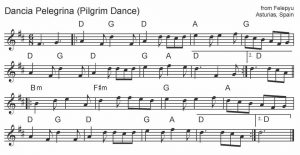 The search for a 'good tune' is never ending for session players! This collection of favourite tunes has been a long time coming. Over 30 years for David! Samuel's interest in folk music has been since he could hold a fiddle as a toddler!
These tunes are from all over the world. They've come from old records, cassettes, CDs, live gigs, sessions, other tunebooks and the web. We've had to transcribe some from scratch and others we've tracked down notation.
INDEX OF TUNES
(Format: Title – Tune Type – Page Number)
Aires de Pontevedre – Air – 51
Andy De Jarlis – Jig – 6
Angel Tarantella – Jig – 12
Anniversary Song – Waltz – 52
Arkansas Traveller – Reel – 31
Arran Boat – Waltz – 52
Arrival of the Queen of Sheba – Reel – 34
Arthur Morris' Set Tune – Set Tune – 49
As the Sun Was Setting – Waltz – 61
Athol Highlanders – Jig – 8
Bancroft's Descent – Jig – 5
Banks of Lough Gowna – Jig – 17
The Belltable – Waltz – 53
Bella Ciao – Polka – 24
Berensdans – Polka – 26
Blacktown Jig – Jig – 15
Borea Piemontese – Polka – 24
Boston Boy – Reel – 33
Bufalo Girls – Polka – 30
Calliope House – Jig – 9
Catalina – Waltz – 53
Cliffs of Moher – Jig – 16
Colin Charlton's Reel – Reel – 46
Cooleys Reel – Reel – 40
The Cowboy Jig – Jig – 9
Crabbit Shona – Jig – 5
Crested Hen – Waltz – 54
Cuil Aodha – Jig – 17
Dancia Pelegrina – Jig – 4
Danish Double Quadrille – Polka – 29
The Dark Island – Waltz – 60
Davy's Brae – Jig – 11
Deccan Street – Jig – 15
Dedicado a Jos – Reel – 43
Den Toppede Høne Fra Vendsyssel – Jig – 10
The Devil Among The Tailors – Reel – 40
Dinkey's – Reel – 36
Doc Boyd's Jig – Jig – 6
Doudlebska Polka – Polka – 28
Drunken Parson – Jig – 14
Dusty Windowsills – Jig – 10
The Fairies Hornpipe – Hornpipe – 49
Far Away – Waltz – 55
Far from Home – Reel – 36
Farmer's Jamboree – Jig – 9
Father Kellys – Reel – 36
Fermoy Lasses – Reel – 41
Fiery Clockface – Jig – 8
The Flogging Reel – Reel – 39
Forked Deer – Reel – 32
Frank Collins' Second Reel – Reel – 46
Frank's Reel – Reel – 45
Fred Finn's – Reel – 41
Fred Picknell's March – March – 50
Galician Muineira – Jig – 13
The Galway Hornpipe – Hornpipe – 49
Garibaldi's March Waltz – Waltz – 55
George Bailey's First Reel – Reel – 47
Ger the Rigger – Polka – 23
Give the Fiddler A Dram – Reel – 31
Going to the Well for Water – Slide – 20
Gran Cuntradanza – Polka – 24
Greencastle Hornpipe – Hornpipe – 49
Harry Axford's Schottische – Schottische – 50
Hayden's Fancy – Polka – 21
The High Road to Linton – Reel – 38
Home Ruler – Hornpipe – 48
Horses Brawl – Branle – 63
Hot Punch – Jig – 7
The House in Rose Valley – Waltz – 61
Hughie Shorty's Reel – Reel – 38
Huntsmen's Chorus – Polka – 23
Ingelas Vals – Waltz – 63
Inisheer – Waltz – 55
Jack's The Lad – Hornpipe – 48
Jesse Polka – Polka – 28
Jim Keefe's – Polka – 22
Joe Cormier's Reel – Reel – 35
John Brown's March – Reel – 32
Johnny Cope – Reel – 40
Josefin's Vals – Waltz – 60
Jump at the Sun – Jig – 6
La Musgana – Jig – 19
La Partida – Waltz – 56
Lady Charlotte Murray – Jig – 7
Le Reel de Voyageur – Reel – 34
Levi Jackson Rag – Rag – 51
Lindahls Polka efter Bror Dahlgren – Polka – 27
Liza Lynn – Waltz – 54
The Long Water – Jig – 11
Long Weekend at Home – Reel – 37
The Maids of Ardagh – Polka – 22
Marcha Nupcial de Chorin el Llagareru – Jig – 4
Marche Nuptial – Jig – 19
Margaret's Waltz – Waltz – 54
Marsch efter Lars Pang – Polka – 27
Maurice Lennon's Jig – Jig – 18
Mazurka di Carolina – Mazurka – 62
Mazurka Limousin – Reel – 52
Midnight on the Water – Waltz – 56
Miller's Reel – Reel – 36
Miss Rowan Davies – Waltz – 61
Mississipi Sawyer – Reel – 32
Morrison's Jig – Jig – 18
Muniera de Chantada – Jig – 13
The Munster Bank – Polka – 21
Music for a Found Harmonium – Reel – 35
The New Rigged Ship – Reel – 45
New York Girls – Polka – 30
O the Breeches Full of Stitches – Polka – 21
O'Keeffe's Slide – Slide – 20
Old French – Reel – 44
Old Joe Clark – Reel – 30
The Oslo Waltz – Waltz – 57
Padraig O'Keefe's – Jig – 20
Pasucais de la Sacristana – Jig – 4
Pat The Budgie – Reel – 39
Pete Brady's Chubby Cheeks – Jig – 11
Phillipe Bruneau's Reel – Reel – 43
Pifferata Degli Abba – Polka – 25
Pink Elephants – Reel – 43
Polka de pe Faulon – Polka – 27
Polka du Morvan – Polka – 27
Polka du pas Berry – Polka – 26
Polka du Tsa – Jig – 19
Price of a Pig – Jig – 5
Quant'e Bello Lu Primo Ammor – Polka – 25
Ragtime Annie – Reel – 33
Raimondos Cucina – Jig – 12
The Rambler – Jig – 17
Red Haired Boy – Reel – 31
Red Haired Lass – Reel – 42
Reel des Eboulements – Reel – 44
The Rights of Man – Hornpipe – 48
Rita Croker's Set Tune – Set Tune – 47
Rosbif Waltz – Waltz – 58
Sam's Tarantella – Jig – 12
Sandpit Reel – Reel – 37
Schottis Fran Lima – Schottis – 50
Sheehan's – Reel – 42
Sheepskin and Beeswax – Reel – 41
The Silver Spire – Reel – 42
Solingsvalsen – Waltz – 57
St Anne's Reel – Reel – 45
The Swedish Jig – Jig – 16
Teddy Creighton's Step Dance – Reel – 46
Tha M'Eudail Is Maighear's Mo Graidh – Waltz – 60
Tobin's Favourite – Jig – 18
Tom Sullivan's – Polka – 21
Toureendarby – Polka – 21
Utpick Waltz – Waltz – 58
Valliance Polka – Polka – 22
Vals from Orsa – Waltz – 59
Valzer di Mezzanotte – Waltz – 62
Vitti' na Crozza – Polka – 25
Waldegger – Polka – 29
The Walk Around – Jig – 14
Walter Bulwer's No 1 – Polka – 23
Walter Bulwer's Polka No 2 – Polka – 23
The Waltz of the Little Girls – Waltz – 59
The Wedding of Lochan McGaw – Jig – 14
Westphalia Waltz – Waltz – 63
Whiskey Before Breakfast – Reel – 30
Wiggen – Polka – 26
66 pages Spiral bound