Description
Over the years describing the band's sound has been challenging. Seeing the band live and experiencing their energy and group dynamic is the best way. Songs move between odd musical styles including ska, jazz, folk and their own unique 'Woodchop Rhythm'. Add some strong local lyric with gang vocal delivery and their unique sound is complete.
Exciting Australian songs propelled by energetic jazz-like woodchop rhythm! Add some strong local lyric, with gang vocal delivery and their unique sound is complete.
The Band Who Knew Too Much are a bona-fide foolproof floor-packing band. For over a decade they have branded their sound around the world; a highly energetic act that is at home singing on the festival stage, busking unplugged on the city streets, or anything inbetween!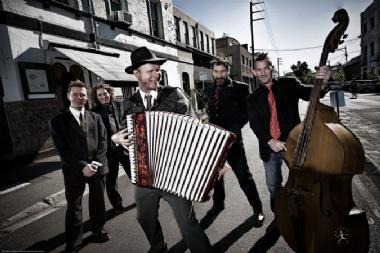 Washboard/Accordion driven anthems about spending the rent, hard rubbish nights and of course, the immortal BEER O'CLOCK!! It's happy hour, energetic party music for everyone.
The Band Who Knew Too Much embrace the brattiness and flaws of everyday life and turn them into material for an intoxicating party of endless energy- like being stuck in the exact moment of winning the AFL premiership cup and feeling the pain and tears of every losing season drift off your shoulders and disappear in the air.'
' After 15 years of proving it, The Band Who Knew Too Much are a truly classic Australian band with an undying spirit for the complete abandon and joy we feel when we throw our fines out the window, slam the rent down on the bar and decide there's no tomorrow- all night long.'
Woodchop Jazz veterans The Band Who Knew Too Much celebrate the important things: Beer, Spending the Rent, Whales, Suburban lunch cutting and Hard Rubbish nights in Kew.
Dave Evans: accordion, vocals.
Andy Reid: clarinet, washboard, vocals.
Matt Earl: drums, assorted percussion.
Ben Gillespie: trombone, vocals.
Shannon Birchall: double bass, vocals.
Craig Fermanis: guitar.
The Band Who Knew Too Much
Review by John Williams
This band is well known having been formed 18 years ago. They have appeared all around Australia at all of the major folk festivals and have completed five overseas tours. This CD is the first one they recorded and it was released in It says something for the band that four members who played on this CD are still with the band today. That's possibly because all the band members have many other musical outlets besides this band which means they may not have got sick of each other yet. How to describe the music… I guess a cross between Zydeco Jump, New Harlem Jazz Band, Captain Matchbox with a bit of Blood, Sweat and Tears thrown in for good measure. It is a unique sound and they are really tight musically. It is obvious they are all strong musicians in their own right. There are 14 tracks on the CD and I enjoyed them all. The CD starts and finishes with two very lively tracks "Spent the Rent" and "The Essential Thing Rag". The in-between tracks are very diverse and most enjoyable. There's the zydeco style "Crazy People" and several great jazz tracks such as "Sunshine Special", "Who Walks In", "The Panic is On" and "When I Get Low". The band does a great version of Huddie Ledbetter's "Titanic" and there are about half a dozen tracks written by various band members that allow them to show their musical diversity and talent. The really inspiring thing about this CD was that nine of the tracks were recorded live on the footpath outside Victoria Market where the band spent many hours busking in their early days. The sound quality is excellent and is superior to some studio albums I've heard. It also gives a fabulous, bouncy feel to the music. And this is what sets this CD aside. It is a celebration of life and is chockfull of raw energy and exuberance. The band members give their all and you come away feeling uplifted from listening to the CD. This band makes you want to listen to its music again and again. It's a real toe tapper. I can easily recommend it as one to purchase as I anticipate many people already have, given the amount of time it has been around. If you are not already a fan after listening to this CD you will become one.