Description
Over the years describing the band's sound has been challenging. Seeing the band live and experiencing their energy and group dynamic is the best way. Songs move between odd musical styles including ska, jazz, folk and their own unique 'Woodchop Rhythm'. Add some strong local lyric with gang vocal delivery and their unique sound is complete.
Exciting Australian songs propelled by energetic jazz-like woodchop rhythm! Add some strong local lyric, with gang vocal delivery and their unique sound is complete.
The Band Who Knew Too Much are a bona-fide foolproof floor-packing band. For over a decade they have branded their sound around the world; a highly energetic act that is at home singing on the festival stage, busking unplugged on the city streets, or anything inbetween!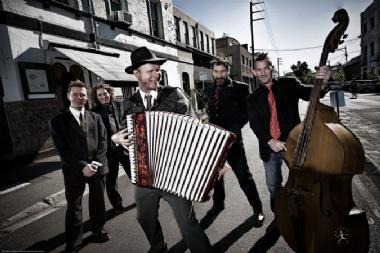 Washboard/Accordion driven anthems about spending the rent, hard rubbish nights and of course, the immortal BEER O'CLOCK!! It's happy hour, energetic party music for everyone.
The Band Who Knew Too Much embrace the brattiness and flaws of everyday life and turn them into material for an intoxicating party of endless energy- like being stuck in the exact moment of winning the AFL premiership cup and feeling the pain and tears of every losing season drift off your shoulders and disappear in the air.'
' After 15 years of proving it, The Band Who Knew Too Much are a truly classic Australian band with an undying spirit for the complete abandon and joy we feel when we throw our fines out the window, slam the rent down on the bar and decide there's no tomorrow- all night long.'
Woodchop Jazz veterans The Band Who Knew Too Much celebrate the important things: Beer, Spending the Rent, Whales, Suburban lunch cutting and Hard Rubbish nights in Kew.
Dave Evans: accordion, vocals.
Andy Reid: clarinet, washboard, vocals.
Matt Earl: drums, assorted percussion.
Ben Gillespie: trombone, vocals.
Shannon Birchall: double bass, vocals.
Craig Fermanis: guitar.
CD REVIEW – The Band Who Knew Too Much – Come On Let's Go
by Bradfield Dumpleton
According to their press releases The Band Who Knew Too Much play woodchop jazz, but to my ears there is some definite ska and polka tendencies elbowing in wherever possible.
The line-up on this 2003 release consists of double bass, drums, clarinet, liberal languid doses of trombone and lashings of accordion all over the place.
The music is a kind of bastard hybrid of aforementioned ska / polka tangled up with moments of tex mex / cowboy, and the attitude is shamelessly contemporary Australian larrikin.
This is party music, energetic, built for drinking to, and lyrically taking a swag of anthemic pokes at the backyard of Australian life.
The title track laments the chaos of city life and the desire to head back to the country.
"Are You Right" is the gruff demand of a bloke defending his suburban territory against a sentimental previous tenant, "Powerful Lies" is an Eastern Bloc swing taking a dig at politicians, and "Burning" uses a Latin percolation as a backdrop to a tale of a man caught in a rural bushfire.
And as for the self-explanatory "Beer O'Clock"………well, what other time is there?
An old Big Bill Broonzy cover, "Black, Brown and White", retains its topical message and gets a very groovy New Orleans shuffle treatment.
And to tie it all together, what else but a brain bending version of the Strine classic "I've Been Everywhere".
This is an eclectic and inherently silly collection of songs, plenty of fun, very danceable and by no means intended for serious music appreciators.